As we are gearing up for the Tony awards, I must admit I am not as well versed this year in the new musicals as usual.
I blame my enchanting four month old.
So I've been cramming a bit this week in who's nominated and although my heart is with the Prom (I have a friend who is in it), I've been looking into what's the buzz about Hadestown.
After all, Hadestown did get the most nominations this year.
And I was pleasantly surprised to see Eva Noblezada's name.
If you don't know who she is, she's kinda every theatre kid's dream.
Was a finalist at the Jimmy Awards
Casting Director for Miss Saigon saw her that night and invited her to audition for Kim in the revival of Miss Saigon in London.
Landed the lead role of Kim at 17.
Starred in Miss Saigon in London at 18.
Her next professional gig EVER was playing Eponine in the West End's Les Mis.
At 20.
She followed THAT up with playing Kim in the revival of Miss Saigon on Broadway.
At 21.
Tony nomination.
Her NEXT gig was starring in Hadestown as Eurydice, first in London.
And then again on Broadway.
Second Tony nomination.
HOMEGiRL IS 23 years old.
And her professional resume looks like this: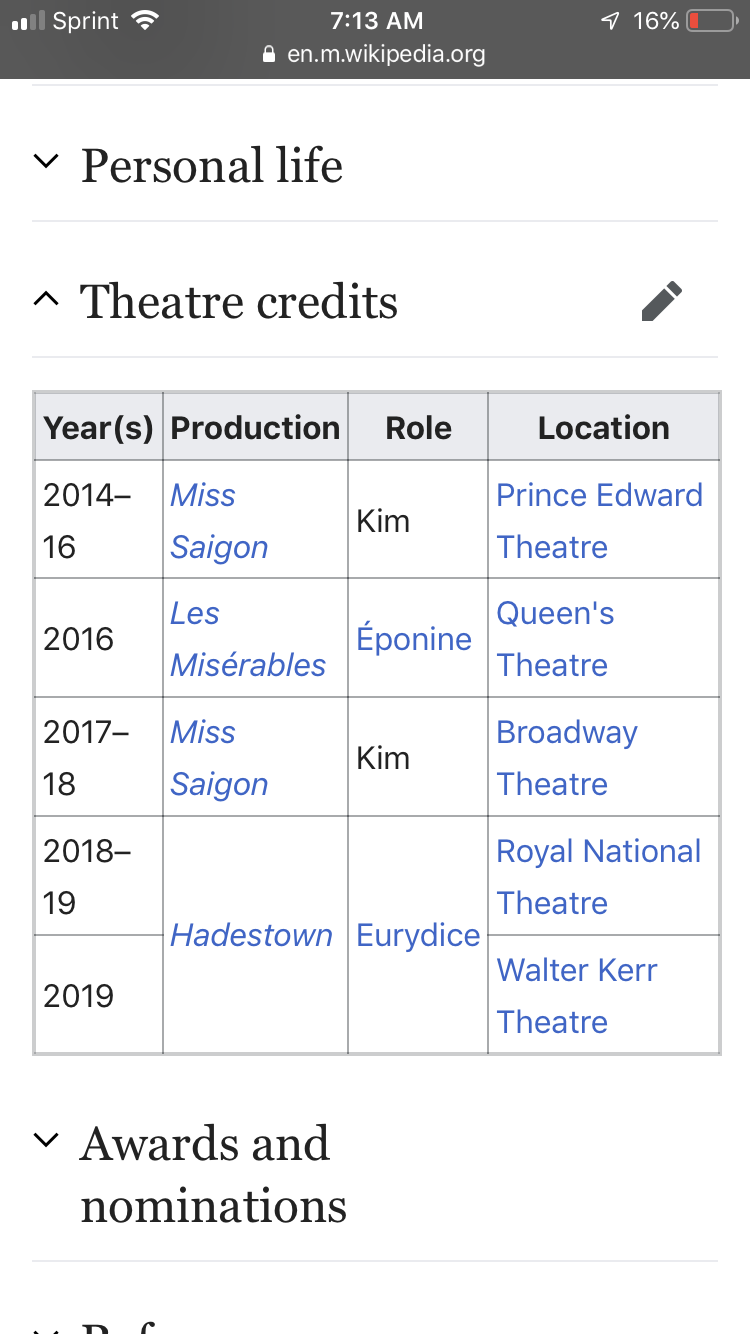 And I realize:
If I was in school, I would straight up be OBSESSED with that career trajectory.
Four credits.
West End, West End, Broadway, West End, Broadway.
Not a summer stock, not a regional theatre, nada.
Just Big League Grand Slams every time.
She's like Peggy Sawyer except without every having been in the chorus to be plucked out of!
I mean, the closest thing I had was Sutton Foster who WAS in the chorus of Millie before becoming the lead, but she was in something like four Broadway productions BEFORE Millie.
Eva hit it out the park HER FIRST FOUR TIMES.
But here's the thing.
Yes she's a real human being, but this is completely and totally not the rule.
She is an amazing comet of an exception.
She is the three minute mile.
And I was wondering…
So, how many professional auditions has she gone on?
Four? (not including callbacks?)
Does she still get nervous or does she get that she is two-time Tony nominee Eva Nobelzada?
Whether she does or not (I'm sure there's a very high chance that she, like most everyone, gets at least a LITTLE nervous at auditions still, especially with such high stakes.)

Regardless, I will be watching the Tony's this Sunday, waiting for her to belt her face off, and then watching her Jimmy's performance from 2013 and watching a high school senior who doesn't know what's about to happen to her life.
4 days till Tonys!!!
I'm 17 and I'm new here today,
Stacy
PS - if you haven't yet grabbed my free audition strategy cheat sheet, it's right here waiting for you.